Kapiti Food Fair Wraps as a Major Event for Kapiti in 2017
6 December 2017
Kapiti Food Fair Wraps as a Major Event for Kapiti in 2017
Without doubt the Kapiti Food Fair has taken that next leap of growth with 15,380 visitors in 2017. It's been a whopper this year with 190+ vendors and everyone who has spoken with us during or after the Fair has commented on how big the Fair has become," says Helene Judge, Co-owner of the Fair. Helene goes on to say, "the variety of what was available from vendors was huge and included ready to eat foods, packaged food & beverage and a range of other F&B related goods so it confirms we are on the right track as a major, sustainable and fun event for Kapiti which is exciting."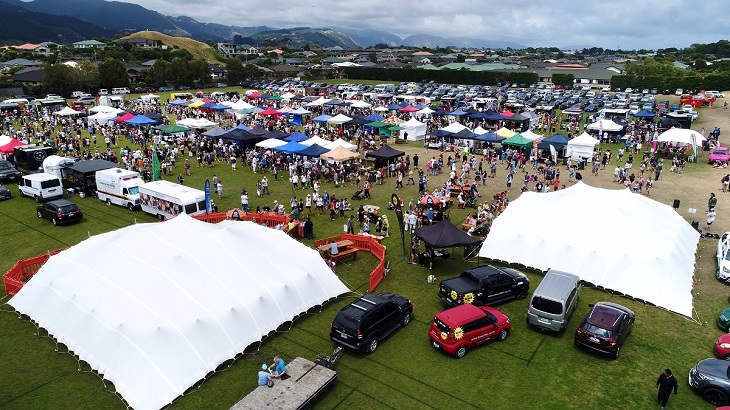 Included in our attendance is all the people that help to make the Kapiti Food Fair what it is today. That is, sponsors, vendors, volunteers, entertainers and the crew who all help to run things on the day. Without their support and efforts, the Fair would be restricted in implementing its growth strategy for the years ahead.
"Part of that growth strategy has been fully supported by the Kapiti Major Events Fund for a three-year period. We have one year of funding to go so we are already planning how we can apply that funding in the best way possible to make sure we achieve our mission, 'to be a fun and tasty day out for all foodies that fills your life with good friends, good times and good food' for thousands of visitors again next year," says Helene.
"Importantly, our marketing paid off with many more visitors this year which is truly satisfying and bodes well for next year. We know that social media, billboards, targeted print advertising and word of mouth are really important for the Fair, so without a doubt we will be very focused when pulling together our promotional plan for next year to achieve as many visitors as we can," says Helene.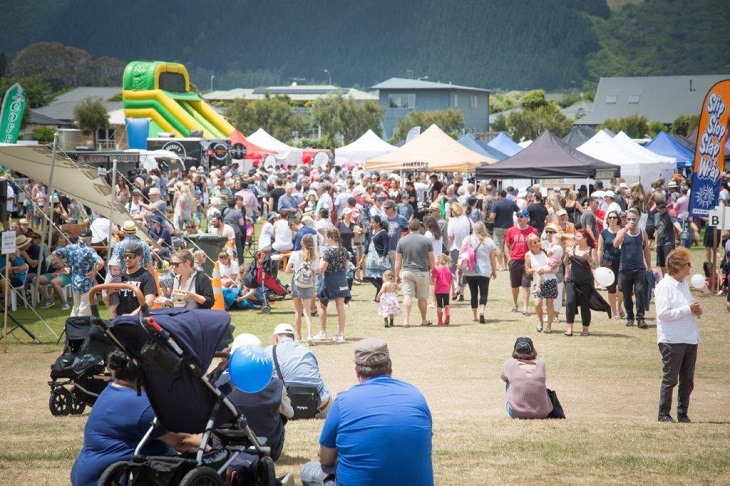 The Mazengarb Reserve is meeting our needs for expansion and being on grass and in a public reserve it makes for a relaxing atmosphere with good on-site facilities. "However, the site map of the Fair covers a large area of 10,000m² so next year we believe we need to put in-place more seating and eating spaces, shade structures, probably more loos and first aid to keep visitor needs top of mind while they are at the Fair," says Jeanine van Kradenburg, Co-owner of the Fair.
Jeanine goes on to say, that "Jax Hamilton, our Celebrity Chef, was truly amazing. Not only is she a talented chef, but she has a wonderful sense of humour. Jax entertained the audience with her cooking, jokes and warm personality. Jax had everyone laughing from the moment she started her demonstration at 11.30am in the PartyPerfect Celebrity Kitchen." Neil Thomson from BCE Catering Equipment was our MC. Neil and Jax gave away prizes including beers from Tuatara Brewing and KOAST Limoncello while Jax demonstrated three delicious recipes: Feta & Cucumber Noodle Salad with Crispy Garlic & Herb Crumb, Jerk Chicken with Coconut Slaw and Garlic & Herb Bread.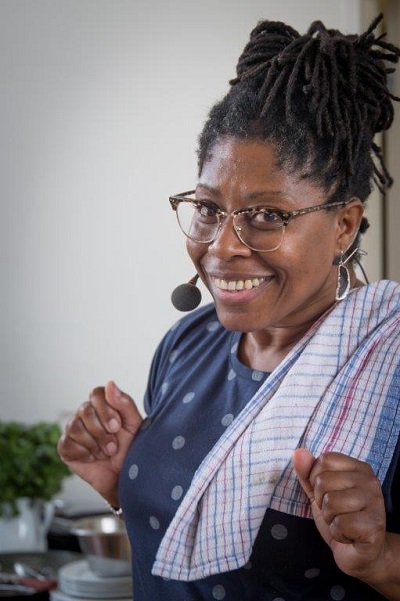 Jax is a natural with people and full of bubbly personality that everyone loved, together with the fact, that she is an inspirational cook with regular pantry ingredients and a handful of fresh herbs on the side. She really likes to present a dish which is recognisable from its original organic existence, maintaining the integrity of the humble ingredients.
Jax also conducted a Masterclass on the night before the Fair at the Whitireia Kapiti Campus for 20 enthusiastic home cooks. It was a blast and truly delicious for everyone with the menu including Whitebait & Scallop Ravioli with KOAST Limoncello & Dill Sauce, 3 Cheese & Herb Cheesecake with Caramelised Balsamic Shallots, Pan Fried Venison in a Tuatara Dubbel Barrel Spiced Ale & Raisin Sauce with Parsnip Puree & Crisp Parsnip Chips. Dessert was a delight, Raspberry Cheesecake Millefeuille with Dark Chocolate.
The weather prediction stayed true with a beaut day, with moderate temps, some cloud and a light breeze which meant the visitors kept flocking in to consume the tasty treats being served and to browse and buy items to take home for others to enjoy or to give away as gifts.
We had two entertainment zones this year which was the right approach as it kept all locations on the site map interesting and fun for vendors and visitors. The main stage was the Beach FM Entertainment Zone playing jazz, blues, funk, pop, folk, classic rock & kiwi tunes, covers from the 60s to now, original music and youth musicians including ZEAL, Brasso, Hottie, HitList and Two Flat Whites. The second entertainment area was the ZEAL Busking Zone with a variety of performances by professional and amateur buskers including Fernando Figueroa, The Biddys, Revelry, Zane & Imogen and the Kapiti Dance Centre.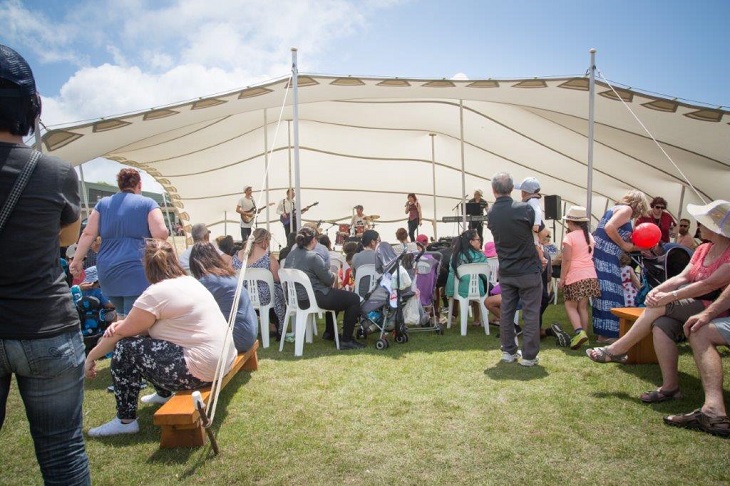 We extend credit to the large Kapiti Rotary team who helped with site set-up, gate entry, traffic & parking and importantly the ATM that was kept busy until the end. At gate entry we also had a student team from Paraparaumu & Kapiti Colleges' who did a super job counting and finding out where visitors had travelled from. They also much unseen work with set-up, cleaning tables and helping the Waste Management team with rubbish clearing. "All in all, an awesome effort by all volunteers and we are really grateful," says, Helene.
This year we organised Kapiti Kruzer to run a free hourly bus circuit from Paraparaumu Railway Station to Mazengarb Reserve. This service was well used with each trip being loaded with excited visitors. "Next year we are likely to increase the bus circuit to be every 30 minutes and to include two buses as this will catch all incoming trains on the hour and every half hour," says Helene.
The Tuatara Bar served all day to thirsty visitors with their own award-winning craft beers and from Duncan's Brewing and North End Brewing. KOAST cocktails were hugely popular along with delicious wines from Gladstone and Loopline Vineyards'. The Bar was BYO food and welcomed everyone including kids as long as they were accompanied by a parent or guardian. "There was a great festive atmosphere inside the Bar," says Bar Manager, Corey Taylor of Tuatara Brewing.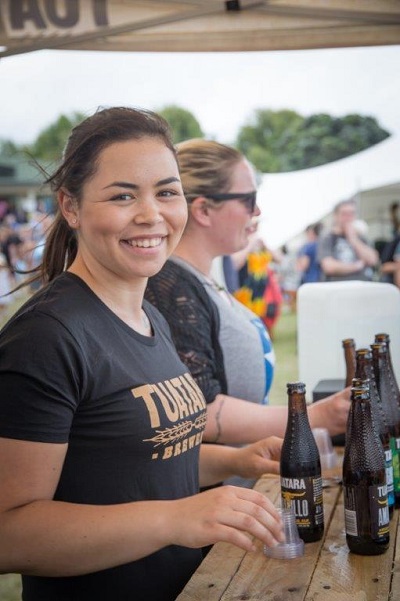 "The local Kapiti community policing team also joined the fun at the Fair which was excellent as their presence is important for a large event such as the Fair, so they can participate and observe," says Helene.
This year the Fair served up chocolates, sweets, fudges, turkish delight, jams, marmalade, jellies, relishes & pickles, dukkah, saffron, sauces, dressings, vinegars, dips & spreads, pestos & salsas, preserves, peanut butter, nut butters, breads, baking, cheesecakes, wines, beers, ports, liqueurs, juices, cordials, teas, olives & olive oils, nuts, salts, peppers, pies, ice cream & popsicles, coffee, meats, cheeses & DIY kits, salami, seafood, honey & health products, kombucha, microgreens, herbs & spices, black & red rice, curry & vegetable pastes, noodles, fruits & veg, kitchenware, gadgets, recipe books, handcrafted utensils, pottery, plates, tagines, tea towels, pet foods, peppercorns, pepper grinders, mortal & pestles; and organic, vegan, gluten & dairy free favourites; and the united nations of kiwi favourites and ethnic foods to devour on the day.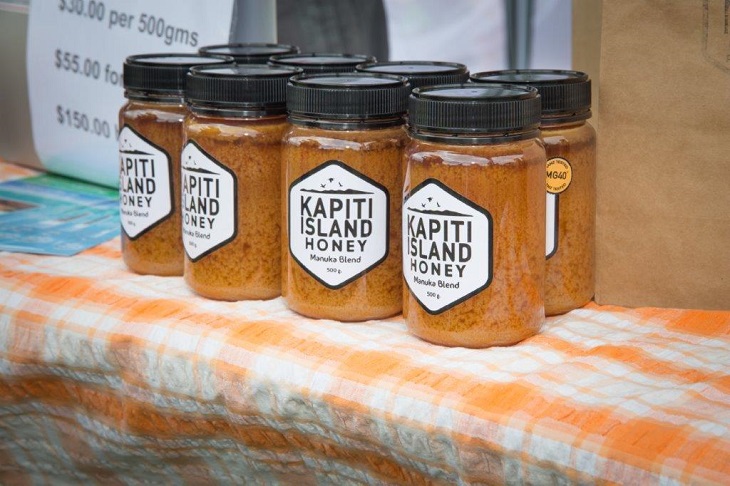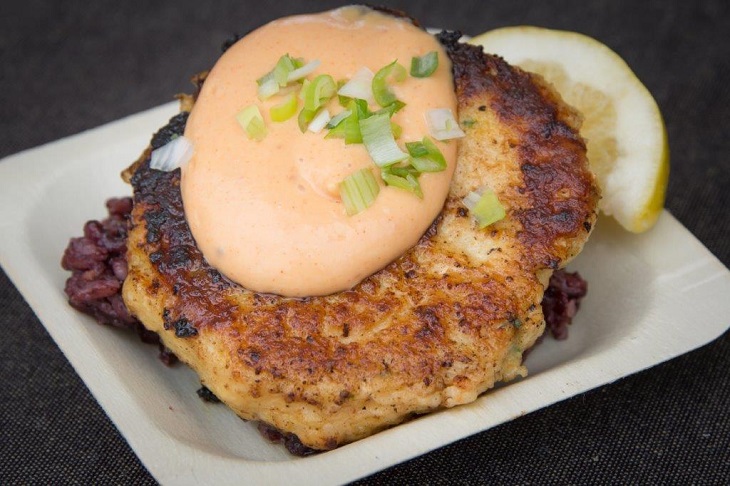 We are now busy wrapping-up the Fair for 2017 and would you believe, already starting to plan 2018 as it takes hundreds of hours all year round to plan and run. Thanks go to our sponsors, Air New Zealand, Bayleys Real Estate Wellington, BCE Catering Equipment, Greenmantle Estate, Kapiti Business Projects, Kapiti News, KOAST Limoncello, PartyPerfect Catering, The Hits 92.7 and Tuatara Brewing, and a large number of local businesses that support the Fair. The Fair is privately owned and operated in partnership by Kapiti Business Projects and PartyPerfect Catering.
We are currently surveying Vendors and Visitors as their views are important to the evolution of the Fair for 2018 and beyond. For anyone that visited the Fair, the survey can be completed by going to >>.
Note your calendar to be at the Fair next year: Saturday 1st December 2018. Go to Facebook and our website to view photos and video.
For further information, contact:
Helene Judge, Kapiti Business Projects, 027 244 9585 or contact Helene.
Jeanine van Kradenburg, PartyPerfect Catering, 04 905 5520 or partyperfectltd@gmail.com