Kapiti Food Fair Fed & Rocked Thousands
8 December 2015
Kapiti Food Fair Fed & Rocked Thousands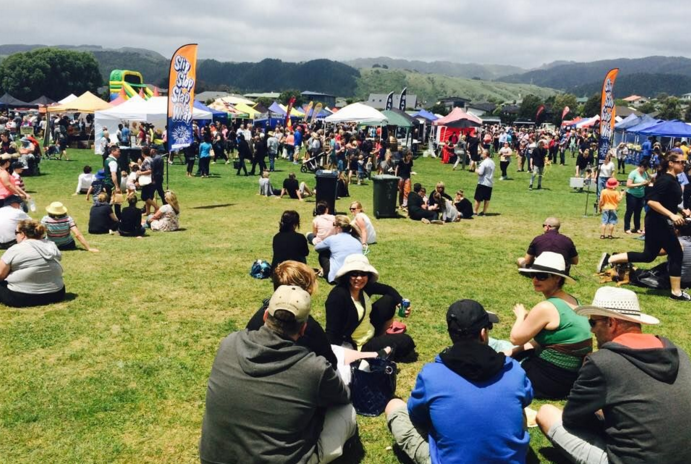 Well the weather performed as predicted which was part cloud yet mostly sunny with a northerly blowing through. The owners of the Kapiti Food Fair (Kapiti Business Projects, Kapiti Cakes & Bakery and PartyPerfect Catering) are delighted with how the Fair went off. "Visitors started to arrive early at 9.30am and by 10.30am everything was humming along with the entertainment programme and vendors cooking and engaging with happy visitors", says Fair spokesperson, Helene Judge. This was the biggest Fair in our six year history with 139 sites and 6,366 visitors.
Helene goes on to say, that "our visitor target was 10,000 yet we are very happy with this result as when you look at the numbers 53% were Kapiti and Horowhenua locals and excitingly, 47% were visitors to Kapiti."Thomas Thomas, Kapiti Cakes & Bakery says, "to achieve this result is very pleasing. We have already started talking about how we are going to build on this next year while sticking to our mantra of all sites being New Zealand manufactured food & beverage products, ready to eat foods and other food & beverage related products."
"Visitors to the Fair were not disappointed by the choice available and we have received some really nice feedback on Facebook, phone calls and email," says Helene. She goes on to say, that "many people have told us how fabulous the Fair was – even saying we are 100% better than the Food Show in Wellington which charges $25 and how we could teach them a thing or three! Others have said we had a great selection of exhibitors, how they loved the street food trucks, and how this was their first time to the Fair and it won't be the last, so that' s all really awesome.
Vendors have also been very positive saying how much they really enjoyed being there and congratulating the Fair on organising another super event and they will be back in 2016.Sponsors have also said it was a great event and well worth the effort they put in.
The entertainment programme was fun and showcased many talented locals (Brasso, Two Flat Whites, Cohen Holloway, Matt Time, Gravel Trax, Serena Alpha, Zane & Degge and Jukebox Gypsies).
"Without a doubt the Fair transformed Mazengarb Reserve with its ability to ' pop up' and entertain over a five hour period, exciting both vendors and visitors," says Helene.
The other truly entertaining and successful aspect without a doubt was Annabelle White, our celebrity chef who created magic with the Masterclass ticket holders at Whitireia Kapiti Campus on Friday night and then during her full house show during the Fair. Jeanine van Kradenburg of PartyPerfect Catering says, "it was an absolute pleasure working with Annabelle for her humour and professionalism which made it easy and enjoyable for everyone behind the scenes and watching her perform live." Jeanine goes on to say that "it was refreshing to work with someone who doesn't sweat the petit stuff and her kindness, warmth and vibrant personality is an absolute inspiration.
"Our Mayor Ross Church had a lovely time hosting Annabelle on a Fair walkabout before she departed Kapiti saying she would definitely come back if we invite her.
This year the Fair saw change with entry being free for those up to 18 and $5 per adult. "We are now working through our financial position as our net proceeds will be donated to the Kapiti Rotary Club Charitable Trust which will then be passed on to Kapiti Youth Support, Kapiti Food Bank and Youth Quest, three worthy groups doing great things in our community," says Helene.
Roger Sowry, President of the Kapiti Rotary Club says, "I was impressed by the variety of what you could taste and buy from friendly vendors and the share number of visitors that just kept continually arriving all day either on foot or by car."The Whitireia Student BBQ competition was hugely popular again and really neat to see an excited student taking home a BBQ donated by Mitre 10 MEGA Kapiti. Roger goes on to say "a big thanks to the Kapiti Rotary team that got in behind all aspects of the Fair – we hope to meet very soon with the Fair owners to work through plans for next year.
"Thank you to Principal Supporter (Kapiti Rotary Club) and all of our sponsors and supporters – we could not have run the Fair without you: Sponsors (Bayleys Real Estate Wellington, Craig Pope Mortgages & Insurance, Kapiti Business Projects, Kapiti Cakes & Bakery, Kapiti News, PartyPerfect Catering); Celebrity Kitchen Sponsors (Air New Zealand, BCE Catering Equipment, Greenmantle Estate Lodge, KOAST Limoncello, New World Kapiti, Sone' s Sauces, Tendertips Asparagus); and our Supporters (Action Safety, Beach FM, Big Mac Slabs Furniture, Brien Electrical, Captured by Friday, Captured Essence, Goodman Contractors, Kapiti Coast District Council, Kapiti Hire, Low Cost Bins, M2PP, NZME, Paraparaumu College, SignCraft, Soundsgood Audio, Whitireia Kapiti Campus).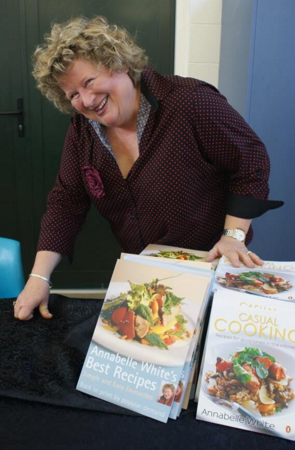 To view all images and film footage of the Fair, go to our Facebook page or our web site.
For further information, contact:
Helene Judge, Kapiti Business Projects, 027 244 9585, contact Helene
Thomas Thomas, Kapiti Cakes & Bakery, 027 296 1244, thomas@kapiticakes.co.nz
Jeanine van Kradenburg, PartyPerfect Catering, 04 905 5520, jeaninevk@xtra.co.nz
Roger Sowry, Kapiti Rotary Club, 04 914 1750, roger@sul.co.nz