Entry Coordinator Role to continue for Electra Business Awards 2016
24 February 2016
Entry Coordinator role to continue for Electra Business Awards 2016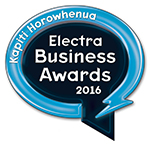 Kapiti Business Projects is delighted to be continuing as the the Entry Coordinator for the Electra Business Awards in 2016.
The Awards are a wonderful opportunity for me to engage with a large number of exceptional businesses in Kapiti and Horowhenua to help them through the entry process.
The Electra Business Awards are robust and are based on the Baldrige performance excellence programme. Entering the awards will help you to:
Step back and review what you do
Make the necessary improvements
Create recognition for your business
Benchmark your business success
Boost staff morale
Publicly celebrate your success
Enter today, don't delay, contact Helene now!