Kapiti Food Fair is ready to serve-up
23 November 2017
Kapiti Food Fair is ready to serve-up a fun & tasty day that fills your life with good friends, good times and good food.
The Kapiti Food Fair is ready to rock with 190+ vendor sites, the Beach FM Entertainment Zone, the ZEAL Busking Zone, The Hits Info Hub and the Tuatara Bar. "We are super excited by the growth of the Fair from last year (158 sites) and it confirms our belief that the Fair is firmly anchored as a major and sustainable event for Kapiti," says Helene Judge, co-owner of the Fair.
Helene goes on to say, "that our growth strategy has been fully supported by the Kapiti Mayor Events Fund for a three-year period which we are delighted about as this funding helps us enormously to plan and spend a significant amount on marketing to attract locals and visitors to Kapiti, and the Fair. Our Mission is to be a fun and tasty day out for all foodies that fills your life with good friends, good times and good food so we are hoping to deliver on that with thousands of visitors this year."
The Kapiti Food Fair is in to its eighth year, growing from humble beginnings at the Whitireia Campus, then based at Lindale in 2009. We had to move away from that site as it was not big enough to accommodate our site map of vendors, entertainment and supporting infrastructure like visitor parking, public toilets and power. The Fair is now at home at the Mazengarb Reserve knowing we have plenty of room for expansion, and being on grass, and in a public reserve makes for a relaxing atmosphere with good on-site facilities.
"The Celebrity Chef demonstration with Jax Hamilton is sounding delicious and we can't wait to meet Jax in person and host her in Kapiti," says Jeanine, the other co-owner of the Fair. Jax needs little introduction with her much-loved style and flair. Since appearing on our screens and winning the hearts of the nation during MasterChef Series 2 in 2011, Jax has set herself a hectic pace with guest appearances at numerous events, appearing regularly on Good Morning, radio spots and TV where she features on the Countdown supermarket adverts.
As a busy mother and business woman, Jax likes her dishes to have all the WOW without all the work, known particularly for preparing dishes that are simple, delicious and full of flavour. Never moving too far from the regular pantry ingredients, with a handful of fresh herbs on the side, she likes to allow for a bucket load of creativity and is happiest when she can present a dish which is recognisable from its original organic existence, maintaining the integrity of the humble ingredients.
Jax is an inspirational cook, who loves to blend a bit of cockney with a pinch of Caribbean all served up on a kiwi plate! Her first book, 'Jax Cooks' was published in 2012. She lives in Christchurch.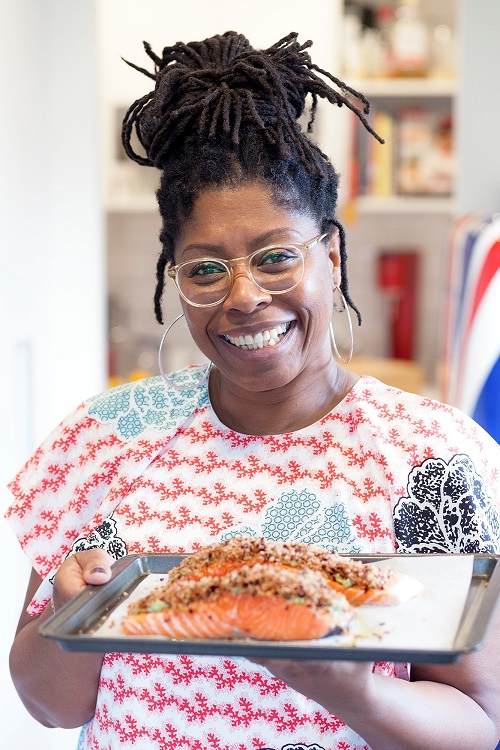 "Previous Fairs have attracted a variety of artisan and commercial products. This year, there is no exception as we are continuing to attract new ready to eat and packaged F&B products which adds to the visitor experience", says Jeanine. Sites include: chocolates, sweets, fudges, turkish delight, jams, marmalade, jellies, relishes & pickles, dukkah, saffron, sauces, dressings, vinegars, dips & spreads, pestos & salsas, preserves, peanut butter, nut butters, breads, baking, cheesecakes, wines, beers, ports, liqueurs, juices, cordials, teas, olives & olive oils, nuts, salts, peppers, pies, ice cream & popsicles, coffee, meats, cheeses & DIY kits, salami, seafood, honey & health products, kombucha, microgreens, herbs & spices, black & red rice, curry & vegetable pastes, noodles, fruits & veg, kitchenware, gadgets, recipe books, handcrafted utensils, pottery, plates, tagines, tea towels, pet foods, peppercorns, pepper grinders, mortal & pestles; and organic, vegan, gluten & dairy free favourites; and the united nations of kiwi favourites and ethnic foods to devour on the day.
During November our marketing has been in top gear with many billboards going up early in November including a large digital one in Otaki and a large SH1 billboard near to the Tuatara Brewing tank at Paekakariki. We have also activated a digital campaign along with cinema advertising in Levin, Paraparaumu and Reading Cinema Courtney Central. Wellington bus backs are also promoting the Fair and we have a huge 10m banner up on the Jervois Quay Overbridge along with flyers and posters plastered around Wellington CBD and in cafes. "We sincerely hope our promotion is acted upon by thousands of people on the day," says Helene.
Importantly, Kapiti Kruzer will be running a FREE hourly bus circuit from Paraparaumu Railway Station to Mazengarb Reserve. This service will work for anyone coming from Wellington or Waikanae who want to reduce their carbon footprint by leaving their car at home (and for those wanting to have a few drinks!). Kapiti Kruzer will pick-up passengers on arriving trains at 10.09am, 11.09am, 12.09pm and 1.09pm. They will depart the Reserve back to the Station at 11.45am, 12.45pm, 1.45pm and 2.45pm.
There are two entertainment zones this year. The main stage is the Beach FM Entertainment Zone playing jazz, blues, funk, pop, folk, classic rock & kiwi tunes, covers from the 60s to now, original music and youth musicians including:
| | |
| --- | --- |
| 10am-11am | ZEAL |
| 11.15am-12.15pm | Brasso |
| 12.30pm-1.15pm | Hottie |
| 1.30pm-2.15pm | HitList |
| 2.30pm-3pm | Two Flat Whites |
The second entertainment area is the ZEAL Busking Zone with a variety of performances by professional and amateur buskers including:
| | |
| --- | --- |
| 10am-10.20am | Fernando Figueroa |
| 10.30am-10.50am | The Biddys |
| 12pm-12.30pm | Revelry |
| 1pm-2pm | Zane & Imogen |
| 2pm-2.20pm | Kapiti Dance Centre |
| 2pm-3pm | Zane & Imogen |
The Tuatara Bar will be serving from 10am to 3.30pm with craft beer from Duncan's Brewing, North End Brewing and of course their own award-winning brews. The wine list is from Gladstone and Loopline Vineyards' from the Wairarapa, and we have three special cocktails being freshly made on the day by KOAST Limoncello. "The Bar is BYO food and will welcome everyone including kids as long as they are accompanied by a parent or guardian," says Bar Manager, Corey Taylor of Tuatara Brewing.
The Fair is clearly shaping up to be a big day out and is ready to embrace visitors and locals alike. Come along ready to sample new foods, buy gifts, to stock-up your pantry at home, to relax, be entertained and to revive yourself in the Tuatara Bar. The weather god is predicting a beaut day, with moderate temps, clear skies and a light breeze.
Saturday 2nd December 2017, 10am to 3pm, Mazengarb Reserve.
Entry <18 free, $5/adult or $10/adult plus a jute shopping bag.
Go to our website to view the site map >>
Kapiti Food Fair is sponsored by Air New Zealand, Bayleys Real Estate Wellington, BCE Catering Equipment, Greenmantle Estate, Kapiti Business Projects, Kapiti News, KOAST Limoncello, PartyPerfect Catering, The Hits 92.7 and Tuatara Brewing. Kapiti Food Fair is a current recipient of the Kapiti Mayor Events Fund and supported by numerous local business including Kapiti Rotary. The Fair is privately owned and operated in partnership by Kapiti Business Projects and PartyPerfect Catering.
For further information, contact:
Helene Judge, Kapiti Business Projects, 027 244 9585 or contact Helene
Jeanine van Kradenburg, PartyPerfect Catering, 04 905 5520 or partyperfectltd@gmail.com