Kapiti Food Fair exceeds expectations of owners with a magnificent day
5 December 2016
Kapiti Food Fair exceeds expectations of owners with a magnificent day
The owners of the Kapiti Food Fair, Helene Judge and Jeanine van Kradenburg are super happy with the number of visitors coming to the Fair this year. "Our target was 10,000 and we have come in at 9,228," says Helene. She goes on to say that "Jeanine and I sincerely thank every visitor, vendor, volunteer, entertainer, contractor and local businesses who helped to make the Fair a huge success in 2016 because without their support, the Fair would be restricted in implementing its growth strategy."
This was our biggest Fair to-date. We believe it can be attributed to solid relationships built over the years with local businesses, volunteers, the entertainment industry and our key supporter, Kapiti Rotary. The other significant factor this year is the contribution by the Kapiti Major Events Fund which granted $15,000 towards a regional marketing campaign to promote the Fair to visitors. "From our analysis we can confidently say that more than 20% of those that attended were visitors from outside Kapiti or Horowhenua so that is very positive for us and a figure that we can now start to build on from 2017", says Helene.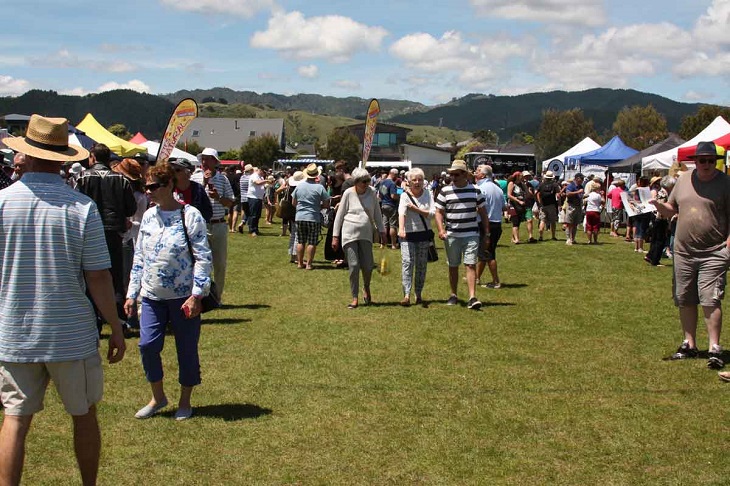 The Fair is an annual event yet activity is required all year round to make it happen professionally. Both Jeanine and Helene are holding to their vision of being an iconic annual pop-up F&B event in NZ, and a fun and tasty day out for foodies. "Now that we have hit the top NZ 20 food festival list we want to maintain that status and to continually development our credibility with vendors and visitors each year," says Jeanine.
"We are about to send out a survey to vendors as their views are important to the evolution of this event", says Helene. Vendors on the day were extremely positive with everyone reporting good sales, happy visitors and that they would be returning next year.
"We were blessed by the sun and 165 exceptional vendors serving all sorts of tasty treats to consume at the Fair or to take home for others to enjoy", says Jeanine. "We also had a wonderful time with our celebrity chef, Jason van Dorsten of Café Hanoi as his style was relaxed yet passionate about serving beautiful fresh and healthy cuisine from Northern Vietnam. Everyone loved watching his demonstration in the Pavilion Building and some lucky attendees even got to try some of his dishes." He served Wok Chicken, Cha ca, Clams, Glass Noodle Salad and Shredded Pumpkin which can all be easily made at home in your own wok. At the end of his demonstration Jason went on a hosted walkabout of the Fair with Mayor Guru.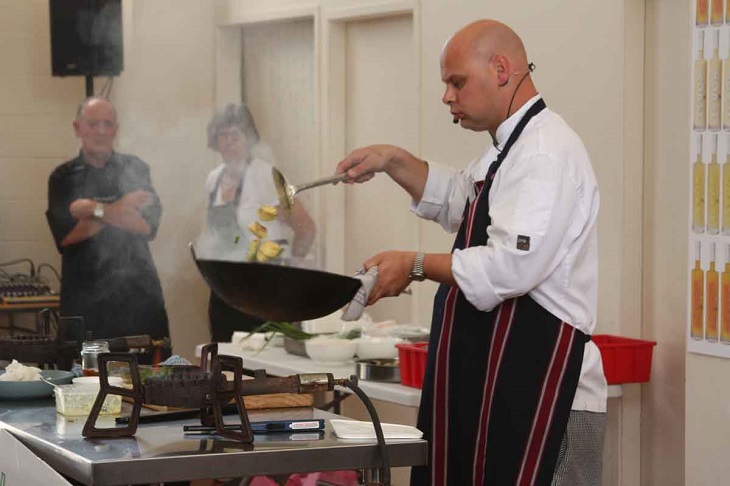 The entertainment stage featured talented young performers from Zeal, Brasso which included a fabulous new female on vocals, GravelTrax, Serena Alpha and Jukebox Gypsies. Another Stretch Tent housed the bar selling Tuatara and North End beer, Ohau Wine and KOAST cocktails which was a hit with visitors.
Kapiti Rotary and student volunteers from Paraparaumu College did a super-duper job of running gate entry, visitor parking, signage and critically running the ATM which was kept busy until closing at 3pm.
Visitors to the Fair were not disappointed by the choice available with the united nations of ready to eat foods represented from under gazebo or food trucks, packaged F&B items and related products. The aroma was intoxicating whichever way you walked.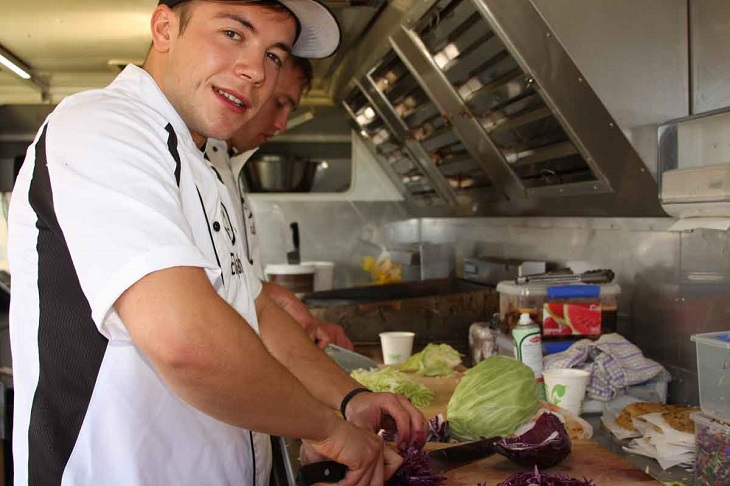 The Whitireia and Mitre 10 MEGA site was also lots of fun with student competitors being put through their paces to cook and serve a delicious plate of food from the BBQ to the Judging team. The winner, Rachael Cox, took home a home a BBQ donated by Mitre 10 MEGA Kapiti.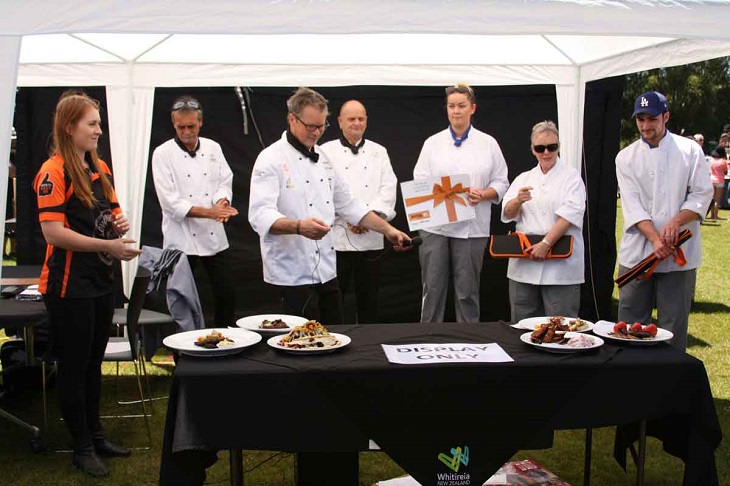 "We also received a number of comments from visitors about how clean and tidy the Fair was. We credit this to Waste Management who managed all visitor rubbish throughout the Fair, says Helene. They emptied 35 large wheelie bins by the end of the day along with the recycling area, thanks guys, amazing job.
"We are now busy wrapping up the Fair which will take a few days yet we are trying to do that as quickly as we can so we can announce the size of our donation to the Kapiti Rotary Charitable Trust for distribution to agree local charities," says Helene. Kapiti Rotary President Eddie Winkel says, "the Fair was a successful and well organised event and we look forward to repeating next year."
Thanks go to Principal Supporter Kapiti Rotary; Sponsors (Bayleys Real Estate Wellington, Craig Pope Mortgages & Insurance, Kapiti Business Projects, Kapiti News, PartyPerfect Catering); Celebrity Kitchen Sponsors (Air New Zealand, BCE Catering Equipment, Atahuri, KOAST Limoncello, Tendertips Asparagus and Whitireia); and our Supporters ( Action Safety, Beach FM, Big Mac Slabs Furniture, Brien Electrical, Captured by Friday, Captured Essence, Goodman Contractors, GO Traffic Management Services, Horowhenua Chronicle, Kapiti Coast District Council, Kapiti Hire, Low Cost Bins, M2PP, NZME Radio, Paraparaumu College, SignCraft, Soulhaven Creative, Soundsgood Audio and Waste Management).
All photos from the Fair can be viewed on our Facebook page
For further information, contact:
Helene Judge, Kapiti Business Projects, 027 244 9585 or contact Helene
Jeanine van Kradenburg, PartyPerfect Catering, 04 905 5520 or partyperfectltd@gmail.com